Rattlesnake Island Local Post to Start Again
Rattlesnake Island Local Post stamps are coming back. Dr. James P. Frackelton, the original creator of the stamps, has announced that the island will again start issuing the popular stamps. The original stamps were first issued in 1966 as rectangular but were soon declared illegal by the US Post Office Department. They were subsequently reissued in 1967 as triangular stamps and continued through 1989 after which new owners of the island discontinued them.
The new stamps will be issued in three denominations as before for post cards, letters, and parcel post. The post card stamp will feature a photograph of the island airstrip and marina and will sell for 25¢, the letter stamp a photograph of the northwest corner of the island for 50¢, and the parcel post stamp a photograph of the island marina for $1. They will be issued in perforated and imperforate formats as before.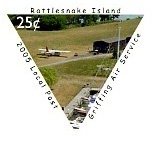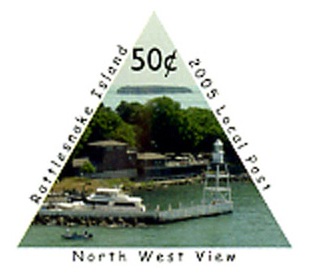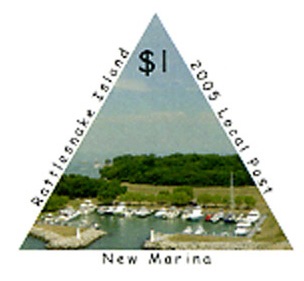 Unlike before the new stamps will not be processed through the Port Clinton, Ohio Post Office but will be processed through the Post Office at Sandusky, Ohio.
The first day of issue for the new stamps is scheduled for September 23, 2005. To obtain your first day covers send a self addressed stamped envelope, with room at the lower left corner for the stamp(s), to Rattlesnake Island Local Post, c/o Griffing Air Service, Sandusky Airport, Sandusky, OH 44870. Please include remittance for the cost of the stamps you desire. International collectors should also include 80¢ for postage from the US.
Dr. Frackelton also announced that all covers bearing previous Rattlesnake Island triangular stamps [not the original rectangular ones] will be honored and canceled at the island.
Questions about the new stamp should be addressed to Bob Fritz at rikid@cox.net or by calling the toll free number 1-877-RILPOST.
All Contents Copyright © 2000-2005 by Middle Bass on the Web, Inc. All rights reserved.
Reproduction without written permission is forbidden for any purposes other than personal use.
Revised: 21 Jul 2008 07:50:22.