Navigation
History
Links
Community
February Items from 1887 and 1945
In February, 2006 we published a page February Ice Fatalities in Past Years that got quite a few hits.
Today is February 12, 2008 and I just remembered a recent item from Feb. 12, 1945, exactly 63 years ago. It's a wonderful picture, shown below, of how ice fishermen were picked up at the airport at Put-in-Bay back then, and happens to have one Middle Bass resident in the picture.
Another surprising February find is the envelope shown below. It was apparently written by I. Petersen of Sugar Island in 1887, and mailed on Middle Bass Island on Feb. 21, 1887.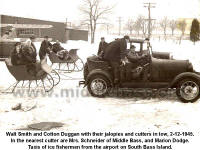 Taxis of ice fishermen from the airport on South Bass Island, Feb. 12, 1945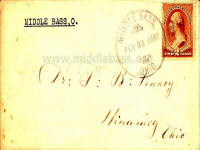 Envelope sent to Dr. Finney, postmarked Feb. 21, 1887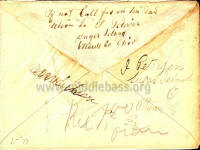 Back of the letter to Dr. Finney from 1887, showing it was from I. Petersen of Sugar Island. It was a big surprise to find a letter from Sugar Island
All Contents Copyright © 2000-2008 by Middle Bass on the Web, Inc. All rights reserved.
Reproduction without written permission is forbidden for any purposes other than personal use.
Revised: 21 Jul 2008 07:50:34.
This page has been accessed
times